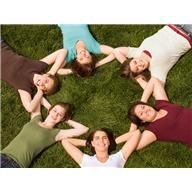 As the leading advocate for children's mental health, AACAP prioritizes the importance of providing support and resources to children and their families. The mental well-being of children is always our top priority.
The American Academy of Child & Adolescent Psychiatry (AACAP) is deeply saddened by the recent attacks and acts of terror in Israel and extends its heartfelt sympathies to the innocent victims, children, families, and communities impacted.
We are concerned for the well-being of all children, especially those caught in this tragedy. Some children and adolescents may also be exposed to these events through disturbing images in the media. Having direct exposure to conflict as well as continuous exposure to violent imagery can have profound and long-lasting impact on children and adolescents' mental health and well-being.
These resources are designed to offer guidance and support for children, adolescents, and families:
Prepare in advance by developing coping, resilience, and self-care skills. This includes techniques such as deep breathing and promptly moving away from disturbing content and/or transitioning to other activities.





Be mindful of your exposure to disturbing content. Please pause and reconsider its impact on you. Take a moment to breathe and reflect. Such images can trigger past traumas and can affect your well-being, sleep, appetite, and sense of safety.





Be careful of exposure to social media platforms as they might not always be helpful for your well-being. Protect yourself and children from unsolicited or excessive exposure.





Maintain routine and regular schedules for eating, sleeping, exercising, school, and work.





Engage with your trusted family and community. Some aid organizations offer empowering actions you can undertake, especially supporting those most impacted by these tragedies in different ways.





Parents and caregivers' well-being is important to their children and adolescents' ability to cope during these difficult times. It is vital for parents and caregivers to seek support or counseling when needed and practice the recommendations that they are giving to their children and adolescents.





If you or someone you know feels overwhelmed, it is crucial to reach out for support. Turning to trusted friends, families, colleagues, or professionals can assist during these challenging times.
AACAP Resources
Additional Resources:
The American Academy of Child and Adolescent Psychiatry (AACAP) is a national professional medical association dedicated to promoting the healthy development of children, adolescents, and families. With a membership of over 10,000 professionals, AACAP provides valuable resources, expertise, and advocacy to advance the field of child and adolescent psychiatry and improve mental health care for young people. For more information, please visit www.aacap.org