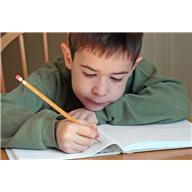 Here are some ways to help your child adapt to their 'home' classroom.
Strengthen your WiFi signal at home
Create a private room for your child to learn in

Have your child do their school work in a different room of the house (or a different house, like a grandparents, if possible)
Help them differentiate between "home" (relaxation, TV, video games, etc.) and "school" (work, focus, etc.)
Reduce distractions
Create a learning pod

Create a small group within the pod
Have an adult who is good with children lead the group
Pods should be cooperative with children's friends
Have P.E. everyday

Before or after school, make sure your child is engaging in physical exercise
The best time is before school, since exercise gets the brain better prepared to learn
Make plans for the evenings or weekends as a family

Give them something to look forward to
Otherwise, the lines between weekday and weekends get really blurred
Set your child up for sleep success

Change sleep patterns (up to a week in advance, if possible) so when school starts the body is ready to work
Help kids go back to school during the first week with special breakfasts

Donut Monday or Kolache Tuesday
This is a reward for positive behaviors, waking up on time as expected, and no negative mood
Do a test run on the computer so your kids know what to expect
Create a visual calendar in the workspace for daily routine

This includes food breaks and energizer activities
This helps define expectations and reduce anxiety for what's next
If the school does not offer social time, help your child create it with school friends. Examples:

Online games like Heads Up
Tuesday social night with pizza
Engage in Sunday night reviews with your child where online school grades and assignments are reviewed and upcoming activities are discussed in terms of preparation needed
For those children with anxiety, consider looking at pictures of teachers on the school website and reviewing last year's pictures of friends to recall names and faces.